Allie Rowbottom used Instagram to write the internet (and Caroline Calloway's) favourite book
My Media Diet: In her debut novel, Allie Rowbottom unpicks what longing for synthetic beauty can do to a person's psyche. Here's what the author – who's well acquainted with Instagram's dark underbelly – gets up to online.

Allie Rowbottom is curled up on a Chesterfield-style sofa with Butter and Jammy, her two French bulldogs, curled up at her feet.
"My husband and I are in New York for book stuff right now, and they come with us wherever we go," she says, Zooming in from a family member's home in the city.
There's a regal-looking oil painting hanging up in the background and Rowbottom's wearing a cosy NBA hoodie, taking a much-needed slow day from relentlessly promoting her debut novel.
Usually, the author is based in Los Angeles, where her book, Aesthetica, is set. It follows Anna Wrey, an influencer operating at the height of peak, 2017-era Instagram. She indulges in cosmetic surgery as a means of increasing her reach and, misguidedly, making sense of who she is.
Fifteen years later, Anna decides to undergo another, more dangerous surgery, ​"aesthetica", which promises to reverse every procedure she's ever had done. In this universe, Instagram has reached its logical conclusion as a platform rife with hollowness, a no man's land of holier than thou posts and empty personalities (sound familiar?). Now, Anna needs to reckon with herself sans surgeon-sculpted cheekbones, when notions of ​"self" are more fraught than ever.
Since its release last month, Aesthetica has become the internet's buzzy novel of choice – Caroline Calloway, the Insta-celeb to rule them all, called it ​"the best novel about influencers I've ever read" – and Rowbottom's gotten pretty swept up in the whirlwind.
"It's so hard to appreciate what's going on when you're in the middle of it," she says. ​"I think this is common, but I was feeling a little unmoored by all the press and unsure what to do next. The best remedy was going to some bookstores and interacting with the people there. I really fought for Aesthetica from the beginning – it was a hard sell every step of the way. To see people now engaging with it is so thrilling."
While writing Aesthetica, Rowbottom experimented with her own Instagram by trying to grow her following and switching up how she self-presented on the platform. Although she's well aware her book wrestles with grim themes, Rowbottom insists it isn't necessarily a rallying cry against social media as a whole.
"My approach to Instagram is pretty neutral," she continues. ​"It's more our approach to it that's challenging. The internet in general tends to foment hate, but maybe that's just human nature that we're seeing reflected back to us."
If Aesthetica were made into a movie or TV show (fingers crossed), who would play Anna? ​"Chloe Cherry," Rowbottom replies. Naturally.
It's all well and good writing a novel all about the internet, but what do Rowbottom's own online habits look like? Keep scrolling to find out, and click here to buy a copy.

The last article I found myself thinking about was…
It was called Eulogy for the Male Gaze by the artist Emma Stern, in L'Officiel. I thought it was brilliant. I'm a big fan of her art, so it was fun to read some of her writing as well.
The last new musician I discovered was…
The truth is Lana del Rey. That was years ago, and I haven't bothered to explore since because she's all I listen to.

The last podcast I spent hours listening to was…
I love the Girls Next Level podcast by Holly Madison and Bridget Marquardt, who were both Playboy Bunnies in the early Aughts. I watched Girls Next Door, so I'm a long-time fan. I love their vibe. They're bubbly, sweet and extremely smart. It's a joy to listen to them.

What was the last picture you liked on Instagram?
It was posted by my husband, the writer Jon Lindsey. It has four parts and he actually sent it to me to approve before posting it, and I didn't see the last picture. The first three pictures are so cute – I look hot. But in the last photo I look like a musty goblin, which I didn't notice for some reason.

The last TikTok I sent to a friend was…
I go on TikTok once in a while and search ​"Aesthetica", which I'll probably stop doing after this. The last video I sent to my friend was of this woman holding up book after book by and about men – all non-fiction biographies. She loves each one, she's rating them, and at the very end she holds up Aesthetica and goes, ​"I hated this book! I hated its feminism!" before saying she's now swearing-off novels. I thought it was so funny. I wanted to comment like, ​"Rude!" but I didn't. Not worth it.
The last TV show I binge-watched was…
Unfortunately Bachelor in Paradise seasons seven and eight. It's so good and yet I find it so stressful.

The last book I stayed awake reading was…
It's called Thirst for Salt by an Australian writer who now lives in New York, Madelaine Lucas. It's an early copy but it comes out in March. It's so good.
The last new word I learned was…
"Scrutator". It's a scrutiniser, basically. I scrutate issues that I'm deeply invested in, I think.
The last Reddit thread I got sucked into was…
I try to stay off Reddit, because last summer I found some unfortunate threads about myself. I've been so scared that I stay far away.
The last meme that made me laugh out loud was…
As Aesthetica was coming out, my husband Jon and I were throwing a big party here in New York, which unfortunately coincided with the National Book Awards, so a lot of publishing people had to decide which party to go to. Jon was busy making memes in support of Aesthetica – he's a really masterful meme-maker. He made one that's a picture of three women, and one of them is sitting on a fire hydrant, which appears to be gushing out from between her legs, as if she's squirting in pleasure. It says: ​"When she realises your boys are going to the Aesthetica party instead of the National Book Awards." That one made me laugh.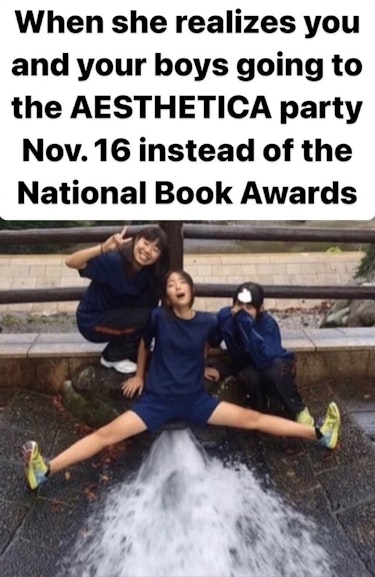 More like this